Celtic harpists Hilary Smith and Laura Zaerr team up for a magical evening of Celtic, Renaissance, rock and more.  Special guests Ben and Kai Frueh, fiddle and keyboard.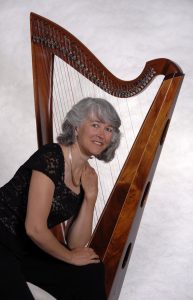 Hilary Smith has been a professional harpist and teacher for over 25 years, bringing warmth and experience to all her musical endeavors.   A Central Oregon native, her education and travels have enlivened her repertoire with music of many different times and places. She comes to us this weekend from Sisters where she lives and teaches.  https://centraloregonharpist.com/
Over the past 30 years Laura Zaerr has delved into various styles of music: Renaissance band, Baroque Italian Triple harp, Single action pedal harp, Medieval single row harp, and most recently Brazilian jazz.  She has recorded several CDs featuring her own compositions and arrangements.  She enriches the lives of others with her work for Hospice and at the hospital.
Laura and Hilary met as students at the University of Oregon.  Since the early 80's they have shared a love of Celtic music while also exploring an eclectic range of other repertoire.  In the 90s, the two classically trained musicians honed their Celtic arranging skills as partners in the Corvallis-based band Village Green, This was interrupted in the mid-90's when Hilary moved to Hawaii, where she enjoyed a whole new way of life.  We are thankful she has returned to her roots in Central Oregon.  Laura and Hilary also co-organize a harp retreat in Central Oregon in the summer.The two harps weave a rich tapestry of bygone ages and far away places, mingled with the freshness of popular tunes and classical finesse. Laura and Hilary both play harps built by local renown builder Dave Thormahlen.  http://thorharp.com/
Ben and Kai Frueh will be joining the duo.  Check out Ben's amazing violin at https://youtu.be/WGchYo4MyXg
Please make a reservation by e-mail, lauraz@peak.org, or call 541-908-2077.