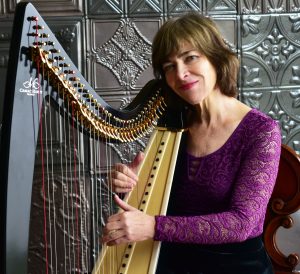 Once again Suttle Lake will be host to the Cascades Harp Retreat.  We welcome back Rim Robertson, and welcome anew Phil Neuman and Gayle Neuman.
PHIL AND GAYLE NEUMAN are well known throughout the world for their extensive knowledge of Early Music; Ancient Greek, Sumerian, Medieval, Renaissance, Baroque, Victorian era, you name it. Not only do they study and perform but also build their own early music instruments.  Phil and Gayle Neuman have been featured in Turkey, Japan, and even in movies. (That's right, Ben Hur and Buddymoon.) They are members of The Trail Band and direct the Oregon Renaissance Band and Ensemble De Organographia. The Neumans have taught music history at Portland State
University and Linfield College, and present concerts and workshops throughout the country. With their vast store of expertise Phil and Gayle will add an element of historic context to the Cascade Harp Retreat. They will also lead harp ensembles incorporating their own brand of Renaissance style. We are looking forward to this "historic" collaboration; Folk Harp Meets Early Music.

KIM ROBERTSON is a well-known performer, arranger and pioneer of the N. American folk harp movement.  Classically trained on piano and orchestral harp, her discovery of the Celtic harp in the mid-70's set her upon the path of exploration for which she is now widely known. She brings a contemporary touch to a centuries-old instrument with her expressive renditions of traditional music and original compositions. Recognized as a skilled performer and insightful teacher, her numerous recordings, arrangements and live appearances have brought her a loyal following. She regularly tours the USA  and Canada with an international itinerary of concerts, workshops and retreats.