WHAT:   A packed weekend of workshops for pedal and lever harpist of all levels, led by outstanding teachers, catered by experienced chefs, in the heart of the Oregon Cascade Mountains.
WHERE:   Suttle Lake Camp and Retreat Center, only two hours from the Willamette Valley, and an hour from Bend.  Enjoy the beauty of the deep hemlock forest on the shores of one of Oregon's most serene mountain lakes.  The Wesley Meadow lodge sleeps up to 32 people in rooms of 2-4 people.   Delicious fresh meals will be provided by the Harp Retreat staff.
WHEN:   June 17-19; Friday evening (check in begins at 4:00) through Sunday afternoon 1:30.
WHO:       Kim Robertson, Laura Zaerr and Rebecca Hilary Smith
Laura Zaerr lauraz@peak.org 541-757-8313 or  contact Hilary at harpsisters@gmail.com or 541-549-1229.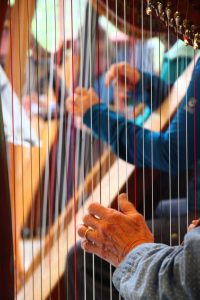 Kim Robertson   Kim's name has become synonymous with the Celtic harp. Her ability to reach into its strings and pull from it hidden treasures has made her one of the most highly sought after harpists and workshop presenters today. As a pioneer in the American folk harp movement, her original compositions and arrangements of traditional Celtic music continue to stretch the boundaries of the harp. Combining innovative techniques with a passionate sense of tradition, she brings a modern touch to a centuries' old instrument. Her workshops are always highly informative with a practical sensibility, and good down-to-earth fun.
Laura Zaerr has been performing and teaching in the Valley for thirty years and is a music graduate of the Eastman School of Music. Laura has presented workshops and concerts throughout the United States and into Canada. She has recorded numerous CD albums, including original compositions which encompass a variety of styles on both pedal and lever harp.  Currently she heads the harp department of the University of Oregon and has been instrumental in initiating the Lever Harp Degree Program.
Rebecca Hilary Smith, a graduate of the U of O Music School, successfully taught and freelanced as a harpist in Honolulu for a decade before moving back to Oregon in 2007. Classically trained in piano, harp and pedagogy, Hilary encourages her students with a warm sense of humor and invites them to explore their own individual relationship with music. Currently she performs and teaches in Sisters and environs, and is a member of the faculty of the Cascade School of Music in Bend.