Harpist ~ Teacher ~ Composer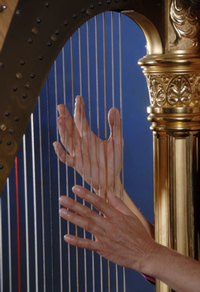 Laura Zaerr teaches both pedal harp and folk harp at the University of Oregon, where she obtained her bachelor's degree in music performance and composition.  She holds a master's degree in harp performance from the Eastman School of Music, where she studied with Eileen Malone.  Over the past 20 years Laura has produced several solo CDs featuring original compositions and arrangements of Celtic tunes as well as recording collaboratively with various musical groups.
She currently plays harp for Evergreen Hospice and is a member of ArtsCare, which sponsors musicians to play at bedside in the hospital. She is a member of the Latin jazz trio Chuva Boa, and plays regularly with the Eugene Opera Orchestra, Orchestra Next and the Oregon State University Symphony orchestra. She is also Eugene chapter president of the American Harp Society.
As well as maintaining a thriving studio in Corvallis, Laura travels throughout the Northwest giving workshops and concerts.  In her spare time she enjoys white-water kayaking, horseback riding, and playing with her young son.
Watch a new video of Laura's arrangement of Dindi below. Don Latarski of Crescent Studios is the videographer.